Laser dentistry is a precise and effective way to perform many dental procedures. Lasers are used as a safe and effective treatment for a wide range of dental procedures. Surabhi Dental Clinic are pioneers in adopting pain free laser technology in our clinic. The application of lasers has opened new doors for our dentist which has enabled them perform a wide variety of dental procedures which otherwise would have been difficult. We use laser technology for:
Dental lasers can reshape gum tissue and bone to expose healthier tooth structure.
Expose partially erupted wisdom teeth.
Reduce pain associated with cold sores and minimize healing time.
Used to speed up teeth whitening.
They may be used for the painless and suture-free removal of soft tissue folds often caused by ill-fitting dentures.
BENEFITS ASSOCIATED WITH USING LASERS IN DENTAL TREATMENT ARE:
Procedures performed using soft tissue dental lasers does not require stitches.
Certain laser procedures do not require anesthesia.
Laser dentistry minimizes bleeding and aids in the clotting of blood vessels that are exposed.
Bacterial infections are minimized.
Wounds heal faster and damage to surrounding tissue is minimal
Laser Dentistry Treatment
No one wants surgery. The prospect of undergoing a surgery, especially dental surgery, scares the bravest among us due to the conventional treatments with scalpel and the bleeding and pain associated with it. Imagine a technique that can eliminate all the pain from surgeries. Using laser, many of the surgeries and procedures can be painless, minimally invasive with minimal post-operative discomfort and excellent healing. Patients require little or no anaesthesia for most of the laser procedures. This technology is helping dentistry gain confidence of people and their popularity among patients is unparalleled.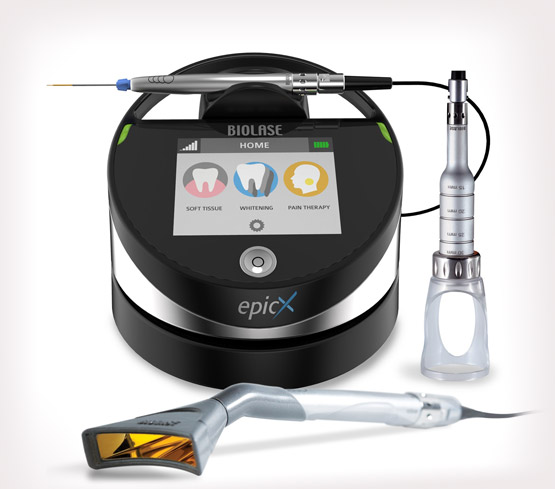 Are you dreaming of beautiful white teeth but worried about how a professional whitening will affect your tooth sensitivity? With Biolase Laser Whitening at Surabhi Dental, you can experience a significantly whiter smile without sensitivity.
At Surabhi Dental, we see patients who really want whiter teeth but are anxious about the procedure based on one of the side effects of a traditional tooth whitening—tooth sensitivity.
Many patients worry about how the procedure will affect their already existing tooth sensitivity, or if it will create tooth sensitivity for a patient who has never experienced it before.
When you visit us at Surabhi Dental, we use Biolase Laser Whitening because patients have minimal to no sensitivity after the procedure.  This is especially helpful for patients that regularly experience sensitivity. This system is effective yet much more gentle than other systems on the market.  Our patients have been loving it!
Biolase Laser Whitening makes it possible for patients of all different sensitivity levels to enjoy spectacular white teeth without the risk of accruing tooth sensitivity.