Do you want a more sparkling and charming smile? Tooth jewelry is an excellent way to set you apart from the rest of the crowd!
In last few decades, an increase in popularity of body art is worth noticing in the fashion industry and general community. There is an inclination towards enhancing the appearance of the body as well smile. To beautify the smile people are taking resort to various cosmetic treatments available in dental clinics to strike a style statement and make a unique identity among the crowd. This beautification enhances the self-esteem and aesthetic appearance of the individual.
While there are many oral treatments to improve the appearance of a smile, these days there is an increasing trend of getting tooth jewellery. The tooth jewellery is for those who wish to have a dazzling smile. These jewelleries are painless and do not require any invasive procedures.
How and When Is the Procedure Performed?
Tooth jewelry can also be used to mask small, noncarious lesions of the front teeth: pigmentation- or fluorosis-related spots, enamel hypoplasia, etc. However, no tooth jewelry should be placed on an unhealthy, decay-damaged tooth. Moreover, tooth jewelry is not recommended for persons with gum disorders, dental calculus, or oral mucosal diseases.
It is an easy, completely painless, and quick procedure that takes not longer than 20 minutes. Tooth jewelry is bonded to the enamel of a healthy, not damaged tooth and does not cause any harm to your teeth. Tooth jewels are tiny and thin (about 0.5–1 mm) and usually are felt only during the first days. A few days after, it does not cause any discomfort while eating, speaking, or brushing the teeth.
The tooth jewel can be easily removed on a personal request. The placement as well as removal of tooth jewelry is a completely painless and quick procedure that has no effect on tooth enamel, i.e., it remains smooth and undamaged.
What Should Be Known After the Procedure?
The jewel attached can stay on the tooth for a few months up to 1 year. If the tooth jewel comes off, the person should visit a dental practice where the remaining layer of the adhesive material will be removed (gently polished).
In order that the jewel would not come off as long as possible, it is very important to practice good oral hygiene and to control dietary habits. The person is advised to avoid rough, coarse foods and touching the jewel with his/her hands.
If a patient who wears a tooth jewel is a heavy coffee drinker or a heavy smoker and the tooth jewel is removed, a substantial color contrast can be seen at the place where the tooth jewel was bonded. In this case, it is recommended to whiten all the teeth to remove tooth discoloration.
In this era of modern dentistry, a visit to the dentist is no longer limited to an aching tooth. Today every person wants to be presentable and in sync with the latest fashion. People now are highly conscious of their looks, including their smile. Your dentist can design the prefect smile for you, best suited to your personality by various cosmetic dental procedures such as veneers or laminates, bleaching and orthodontic appliances. The latest emerging trend to aesthetic dental procedures is the 'tooth jewel' which decorates your smile and makes it dazzling. The main advantages of the tooth jewel are:
It is affordable
It is an easy procedure which doesn't involve any drilling, hence no pain
There is no loss of tooth structure
It is reversible
Surprise your friends with these tiny little sparkling designs on your tooth by fixing an appointment with us…!!!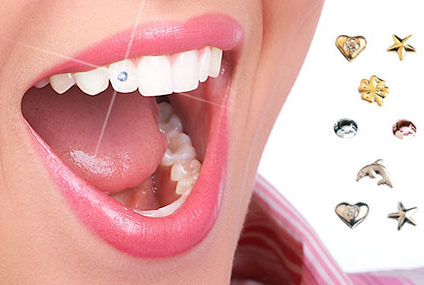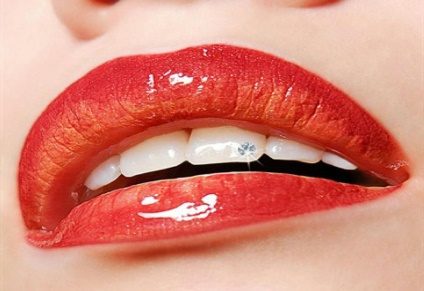 Tooth gems:
The tooth gems are basically crystal glass which is mounted on foil made of aluminium which creates a very attractive spark. It is available in various colours.
Brilliance tooth jewellery:
The brilliance tooth jewellery can be found in 3 various colours namely sapphire blue, crystal clear and ruby red. They are found in 2 sizes of 1.8mm and 2.6mm.
Rainbow crystals:
The rainbow crystals are less expensive in comparison to the other forms of tooth jewellery. These crystals are used for short term and are available in 10 colours and different sizes.
Dental jewels:
The Dental gems are small glass crystals which twinkle and become noticeable instantly. These gems are available in different colours.
Twinkles:
Twinkles are made of gold and precious stones such as diamonds, rubies and sapphires. These stones are available in various shapes like heart, drop, triangle, and round as well as star.